The Russian military buildup, with 100,000 troops stationed along Ukraine's eastern border that began last year is causing a continuing crisis, threatening the geo-political balance between Russia and the West, i.e. Europe and America, with the latter, for now, in the front seat. 
The ongoing flurry of NATO and other high-level diplomatic meetings are not showing any signs of slowing down – or giving any results, at least so far. The talks today between US Secretary Anthony Blinken and Russia's Foreign Affairs Sergei Lavrov appear to have achieved just one result: The door isn't slammed shut, more talks are planned. 
Prior to their meeting, and adding to the tension, was the claim from the Ukraine Intelligence services that they had evidence that Russia was secretly moving weapons and oil into eastern Ukraine. And the day before the two diplomats met,  Russia revealed it planned naval drills involving more than 140 warships and more than 60 aircraft, in yet another show of strength. 
Also, on the same day, the US ramped up its accusations, warning that there was a  Russian intelligence plot, involving the recruitment of current and former Ukrainian government officials to step in and set up a provisional government meant to cooperate with an eventual occupying Russian force. At the same time, the US Treasury Department went ahead with sanctions on two current Ukrainian members of parliament and two former government officials accused of being part of the plot.
Here is where we stand.
The two sides – Russia and the West – are far apart while America takes the lead in diplomatic talks
On the European side, military moves are announced to support NATO's military deployment in eastern Europe.  Britain said earlier this week it would supply Ukraine with extra troops for training and defensive weapons and today, in a speech, UK Foreign Secretary Liz Truss (on a visit in Australia) called on Mr. Putin to "desist and step back from Ukraine before he makes a massive strategic mistake" that would lead to the terrible loss of life. Spain is sending warships in the Mediterranean and the Black Sea; Denmark announced it would send a frigate to the Baltic Sea, and France offered to send troops to Romania.
So far, even though Ukraine is a quintessentially European question, and in the absence of any "European voice" – EU diplomacy appears M.I.A. -, America has taken the lead in diplomacy. 
Two weeks ago, speaking to host Jake Tapper on CNN's "State of the Union, Blinken set the limits the US would accept:
Off the table

: Pulling U.S. troops out of Eastern Europe and committing not to expand NATO to include Ukraine;

To be discussed and potentially acceptable:

smaller steps such as moving U.S. weaponry in Poland further west, moving missiles, and limiting the scope of U.S. military exercises.
That's far from what Putin's Russia demands – demands that are all based on Putin's notion that the Soviet empire borders should be restored. Not only won't he allow Ukraine to join NATO, but he is demanding that NATO abandons military activity in eastern Europe and that both Bulgaria and Romania leave NATO even though they have been NATO members since 2004. 
Clearly impossible-to-satisfy demands. Why is Putin doing this, pushing the world to the brink of war? The more Putin loses popularity internally, the more he turns to foreign issues to deflect the attention from home; his objective is to score wins and try to restore the Russian people's confidence in him. This is a well-known strategy of strongmen whenever they are confronted with challenges at home. And this is precisely what makes this Ukraine crisis so dangerous.
Moreover, it would not be the first time Putin acts aggressively. It has invaded Ukraine before – seizing Crimea in 2014 – and NATO's secretary-general, Jens Stoltenberg, has warned (on January 12) that there is "a real risk for a new armed conflict in Europe". 
This said, there is little doubt that over the past 30 years, the balance of power has shifted dramatically away from Russia, as shown in the following map of the expansion of NATO in Eastern Europe from 1991 up to now: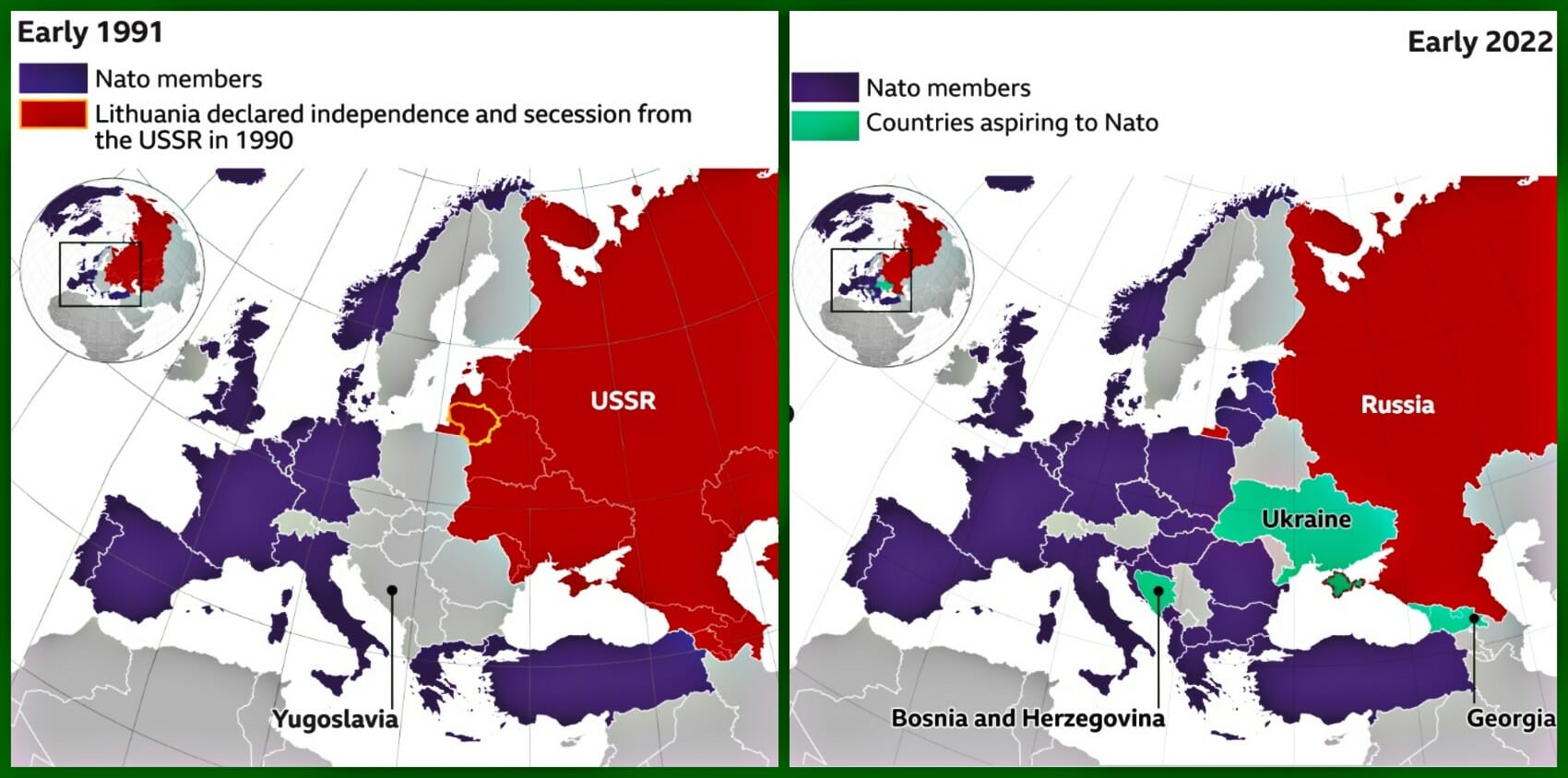 The Blinken-Lavrov talk 
This week Blinken toured Europe in an effort to make clear to Russia that "diplomacy is the only responsible way forward". He met with NATO allies, first with Britain, France and Germany in Berlin followed by a trip to Ukraine's capital, Kyiv to show support for Ukraine and an announcement that the US would give the Ukraine millions of dollars in additional military assistance, earning warm thanks from Ukrainian President Volodymyr Zelenskyy. Blinken ended his diplomatic tour with a two-hour talk with Russia's top diplomat, Lavrov.
Lavrov repeated Putin's demands while flatly denying Moscow is planning an invasion. He demanded NATO halt its eastward expansion in Europe and deny membership to Ukraine. He called on NATO to remove troops from Romania and Bulgaria – to which both Bulgaria and Romania immediately responded, the latter saying Moscow's demand was "unacceptable" and the former declaring it alone decided on its defense.
Immediately afterwards, Blinken said there was "no breakthrough" but in an exclusive interview with ABC, he expanded on what the talks achieved. He felt they were testing whether there was still a path forward for dialogue and to see "where we were" and "where they could go next" and resolve this crisis diplomatically. 
Based on what he heard in the last couple of weeks in his tour in Europe, he said "we will put into writing both some deep concerns we and other allies and partners have about Russia's action – not just Ukraine but more broadly, with regard to security".  And he plans to address some of "the concerns raised by Russia" and put down some ideas on the table "about how we might strengthen each other's sense of security and, based on Russia's response, we anticipate getting together again".
He noted that he was conscious that Russia "continues to take steps that are escalatory and not de-escalatory" and he said, "we will continue what we've been doing", i.e. working with allies and partners "to build a strong response to any renewed aggression."
As Blinken noted, there are basically "two paths ahead, one is through diplomacy and dialogue and the other is Russian aggression that will have serious consequences".
On that point – clearly responding to a comment President Biden made last week, giving the erroneous impression that a minor incursion might be tolerated (much to the dismay of US allies) – Blinken went to pains to clarify that "any Russian forces" going into Ukraine "constitute an invasion" and would receive "a very swift united and severe response". At the same time, he said he was well aware that Russia could engage in other actions, hybrid warfare, non-uniformed troops, cyber attacks, etc and he made it equally clear the US would respond to that too in a "proportionate way".
A summit between Biden and Putin is not really in the cards unless, as Blinken noted, it proves useful – after all, they are already in contact, they've met once, and talked on the phone several times. So what comes next? More talks next week. And no doubt, that's good news. As long as they're talking, there's no war. And hopefully, as time is thus gained, European diplomacy might finally wake up and take some action.
---
Editor's Note: The opinions expressed here by Impakter.com columnists are their own, not those of Impakter.com. — In the Featured Photo: US Secretary Anthony Blinken (left) and Russian Minister of Foreign Affairs Sergei Lavrov (right) after their meeting in Geneva Photo Credit: screenshot from DW video